Royler Gracie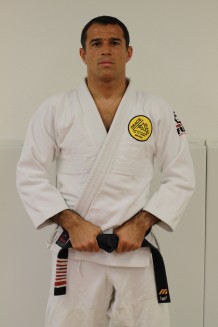 Royler Gracie has been fighting all his life. Born into the famous Gracie family, the fifth son of Grandmaster Helio Gracie was already learning the art of Brazilian Jiu-Jitsu at the tender age of 3. Spending most of his time in the Academy training and learning Brazilian Jiu-Jitsu it was natural that Royler became a fighter. He started early (7 years old) in the juniors, competing as often as possible and winning most of the events. As he matured into a teenager and his technique got better, he continued fighting tournaments.
At 21 years old, Royler had his first taste of No Holds Barred. One day, while teaching a class at the Gracie Rio de Janeiro Academy, Royler was informed by his brother Rickson that he would be fighting the next morning. The opponent was to be a Luta-Livre fighter that outweighed him by more than 15 pounds and had many NHB matches. The next morning Royler fought his first NHB match. It lasted 55 minutes and ended up in a draw.
Royler continued to excel in his ventures; in the first World BJJ Championship in 1996 Royler became the first World Champion at his weight. He continued to dominate the weight class by repeating as Champion for the next three years, beating some of the best fighters of the time. Royler also managed to win 2 Pan-American Titles and a Brazilian National title along the way.  Royler didn't seek the protection of his weight division; the warrior would seek to compete in the realm of the giants: The Absolute Division. Having secured a third place finish in '97, (after winning 4 matches in his weight), he had to fight 3 more matches against some of the best and largest fighters of the time.
Royler continued to compete in submission grappling, winning an unprecedented 3 consecutive ADCC World Submission Wrestling Championships ('99, '00 & '01) as well as NHB matches, having participated in Vale-Tudo Japan and Pride events. In December of 2000 Royler made his first foray competing in America outside of BJJ when he was participated in the main feature Superfight of the International Pro-Am. Royler won that match in less than a minute with a foot-lock.
Royler is an intense person who can be compared to the energizer bunny, always doing something and never stopping. He is a great instructor with numerous World Champions under his tutelage.  He is a friendly person and is in turn adored by his friends but is also very honest and direct and doesn't measure his words.  Everyone around Royler knows exactly where they stand with him. His competition record pales when compared to his instruction achievements.
A dedicated teacher and role model who follows in the footsteps of his father Grandmaster Helio Gracie – widely acknowledged as the founder of Gracie Jiu-Jitsu – Royler has created many Champions over decades of teaching.  Royler took over as the leader of the world's original Gracie Jiu-Jitsu Academy, the Gracie Rio de Janeiro Academy, and over the years maintained the highest standards of teaching.
Regis Lebre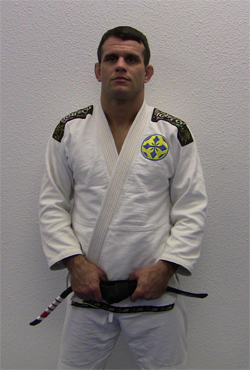 Regis started training Gracie Jiu-Jitsu with Master Eduardo Rocha (Royler Gracie 3rd degree Black Belt) at Fortaleza-CE.  As he trained Regis developed the passion and desire to learn more about this secular art. Therefore, at the age of 20, he decided to move to Rio de Janeiro to have the great privilege to be trained and educated by Master Royler Gracie. Along with his training, he was able to receive the knowledge of teaching the Gracie Jiu-Jitsu Art, Gracie Self Defense Course and Gracie Competition techniques.
Regis received the honor of the Black Belt from Master Royler Gracie at age 24. The following year, Regis decided to come to the US in order to spread the knowledge he acquired throughout the years, and chose Philadelphia as the starting point.  Regis stayed in Philadelphia for 8 years, where he was able to build a strong team with champions in many different categories.
Regis still had more to offer in disseminating the Gracie Jiu-Jitsu art. With that in mind, he chose San Diego as his next step because of its proximity to the world's major competitive events so the Academy would become a common spot for students around the world to stop.
San Diego also offers great weather throughout the year and great, friendly people as residents. He remains the head instructor of Gracie Philadelphia and visits several times a year, maintaining a strong and respected team on both coasts of the U.S.
Regis Lebre Competition Background:
Rio de Janeiro State Championship Titles – 1st place – 1998, 1999, 2000
Brazilian Nationals Championship Titles – 3rd place – 1998, 1999, 2000
World Championship Titles –  1st place – 2007 (Master Division); 2nd place – 2008; 3rd place – 1999
Gracie World Championship (Columbus-OH) – 1st place – 2007
Brazilian Nationals Team Championship – 2nd place – 1999
Brazilian Regional North and Northeast Championship – 1st Place – 1997, 1998
Pan American Championship – 1st place – 2009  - 2nd place – 2007 (Open Class); 3rd Place – 2005, 2007
Joao " Johnny" Faria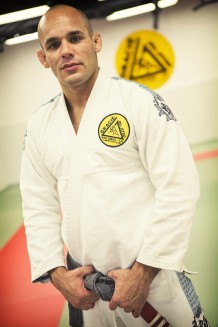 Joao Faria was born and raised in Sao Paulo, Brazil. He started his journey into martial arts with Judo at age 8.  His first contact with Brazilian Jiu-Jitsu was at age 12 with Master Flavio Behring, (Helio Gracie's Black Belt).  Johnny had to stop his training right after he had initiated because he lived far away, and it was not secure for someone at his age to commute by himself to the Brazilian Jiu-Jitsu Academy. However, when he made 16 years old, he was able to get back to his truly passion training the Gracie Jiu-Jitsu art with Master Flavio Behring and Jorge Patino "Macaco" who awarded Johnny his Black Belt at age 22.
Nowadays, Professor Johnny Faria is a 2rd degree black belt, and he has been studying Brazilian Jiu-Jitsu for more then 15 years. In addition, Johnny has had the privilege of training with, and learning from some of the best Masters and athletes in the Brazilian Jiu-Jitsu History such as, Master Royler Gracie, Regis Lebre, Saulo Ribeiro, Xande Ribeiro. Johnny Faria personal discipline and commitment to the integrity of the Brazilian Jiu-Jitsu are easily noted. His classes are remarkable due to the high level of attention, excitement, and discipline, as a Professor, he expects nothing but the best from each one of his students.
Professor Faria is still an active athlete and competes in most of the major Brazilian Jiu-jitsu tournaments worldwide; therefore, he is able to transmit to his students his vast competition knowledge acquired throughout the years.
Along with the journey to get his  Black Belt, Johnny has accomplished many titles including:
No-Gi Mundial Championship 1st place 2010
No-Gi Mundial Championship 1st place Absolute 2010
Pan American Championship 1st place 2010
US Open Championship 1st Place 2008
Aggro Submission Grappling Championship 1st Place 2007
The American Nationals Championship 3rd Place 2009
The American Nationals Championship No Gi 2nd Place 2009
1st Rollyson Jiu-Jitsu Cup 1st Place 1999
Brazilian (SP) State Championships 1st Place 1997, 1999, 2001