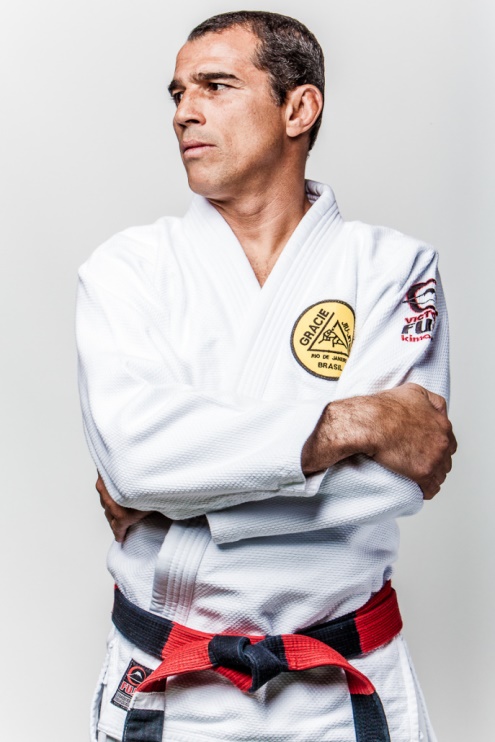 Royler Gracie is the son of Gracie jiu jitsu Grandmaster Helio Gracie and a legend in jiu jitsu and submission wrestling of his own merit, having been the first "King of BJJ's Featherweight Division" setting the record of world championships at the time. Royler Gracie also ventured in mixed martial arts (MMA) ending his career in 2006, and excelled as a coach, leading the Gracie Humaitá academy in Rio de Janeiro, developing fighters like "Megaton" Dias, Alexandre Ribeiro, Omar Salum, Renato Barreto and many others. In 2010 Royler moved to San Diego, California (USA) where he opened his own academy.
Royler Gracie
Full Name: Royler Gracie
Nickname: n/a
Lineage: Mitsuyo Maeda > Carlos Gracie > Helio Gracie > Royler Gracie
Main Achievements:
• World Champion (1996, 1997, 1998, 1999)
• Pan American Champion (1997, 1999)
• ADCC Champion (1999, 2000, 2001)
Weight Division: Peso Pena (Featherweight) 70kg/154lbs
Team/Association: Gracie Humaita
Royler Gracie Biography
Royler was born on December 6, 1965 in Rio de Janeiro, Brazil. He started being taught by his father as a toddler in a joyful and playful manner, many times playing soccer in his classes, but has he grew into an child, the games went away and the martial art stayed. He started taking his Jiu Jitsu seriously when he was around 7 or 8 years old under his cousin Rolls's tutelage. Royler said that some of his most precious moments were lived in that period, he lived in Botafogo (Rio de Janeiro) and every day he would catch a bus to Copacabana together with his brothers Royce and Rolker to train at his cousin's famous academy. His classes started at 5pm and finished at 6pm, but he would often stay until 8.30/9pm to watch the adults training sessions and see their techniques always enquiring the experts about them.
Rolls used to encourage Royler as a child, putting tremendous belief in him and Royler always mirrored his BJJ on his cousin's (even today). The two were very close and it came as a great shock when Rolls passed away due to an unfortunate accident (check Rolls Bio here), but it did not detour Royler from Jiu Jitsu as he moved his training to his older brother Rickson's camp (that was supervised by his father).
It was with his father and brother that Royler started taking competition seriously, Helio Gracie would encourage him to compete by saying "If you win, I will give you 5 dollars. If you lose, I will give you 10 dollars". At first Royler did not understand his father's intentions, but later he comprehended that this was his way of taking the pressure off his back.
Helio's plan worked and Royler turned into a formidable fighter, one of the best ever seen. His victories became legendary in both Jiu Jitsu and Submission Grappling having an unbeaten run that lasted for several years, until in 1987 when he was surprised by De La Riva's sneaky guard at the "Copa Cantao" a competition he lost to a sweep, but it wasn't until 1998 that Royler would be beat by a submission, and that was to a much larger Zé Mario Sperry who was a Super Heavy Weight.
As Rickson moved to the USA Royler picked up the mammoth task of filling in Rickson's boots (gi) at the Gracie Humaita's Academy, a job he did with perfection having been responsible for the formation of some of the best in the sport today (people like Saulo and Xande Ribeiro as well as Vinny Magalhaes and many others).
Always trying to improve his BJJ game, Royler often looked at other grappling forms, he trained extensively in Judo at both Sion (former Vasco da Gama) and at the Regatas Flamengo club to improve his base and ended up competing in the Japanese Martial Art reaching a silver medal in the Judo Brazilian Nationals. In 1997 Royler took his chance competing in the Open Weight Division of the World Championships. He made 6 gruelling matches to reach the semi finals while on the other side of the brackets Amaury Bittetti fought only 2 after a series of injuries allowed him to win by WO (no opponent) he (Amaury) also avoided fighting at his weight class and was clearly the fresher of the two. When they faced each other, Royler tried to play on top position, but was overpowered by the superior strength of his fresher opponent and so he got taken down losing the fight by two points. He placed 3rd in the Open weight being a Featherweight.
When Royler decided to compete in MMA he also looked to improve his stand up training boxing with Claudio Coelho, a coach that helped him a lot, lifting his spirits and building up his confidence as well as his stand-up technique.
In 2000 Royler accepted a fight against Kazushi Sakuraba, an up and coming MMA fighter who was a middleweight at the time and walked around 190lbs. Royler was the first Gracie to succumb to the Japanese fighter, losing to a Kimura lock in the second round.
In 2010 after 20 years of living in between Rio de Janeiro and San Diego (California), Royler decided to move definitively to the USA leaving Rolker Gracie in his place at Gracie Humaita (Rio). In San Diego he was able to find a place were he can live more relaxed, enjoy the sun and still enjoy his loved hobby of surfing.