What is Brazilian Jiu-Jitsu or Gracie Jiu-Jitsu?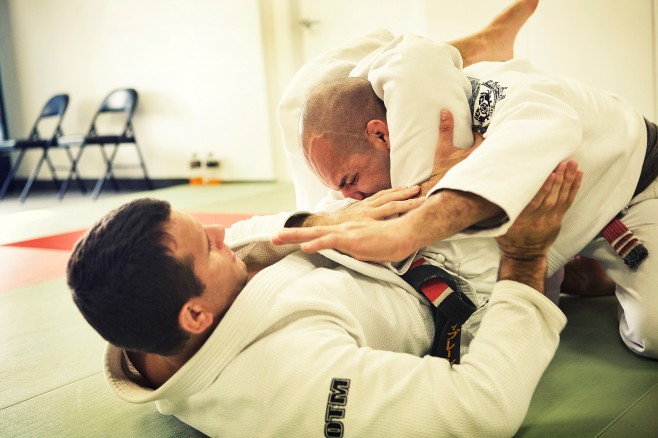 Brazilian Jiu-Jitsu is a versatile system of martial arts for it is not only a method of fighting but also a sport. A martial art focusing on leverage and technique as well as increasing physical fitness. It also has positive impact on character building for the youth and a way of life.
In the early part of the 20th century, Brazilian Jiu-Jitsu was introduced which was derived from the Japanese art of defense called Jujutsu. As a combat sport, it basically involved grappling and ground fighting. Another mode of martial arts introduced in Brazil is Gracie Brazilian Jiu-Jitsu,
Gracie Jiu-Jitsu have something in common with Judo and Japanese jiu jitsu, but they are in no way identical. It has evolved into a martial art of its own.
Brazilian jiu-jitsu applies joint-locks and chokeholds to defeat the other person and a must-have tool in mixed martial arts competition or self defense. It utilizes sparring and live drilling and places importance on technical performance, especially during competition.
GJJ also uses arm locks, chokes, leg locks, lots of holds and strikes. Its primary objective is to hinder any advantage of the striking capability of the opponent. Thus, GJJ is a better self-defense method for both the young & old and even for average sized fighters.
The Best Place To Learn Brazilian Jiu-Jitsu
One of the best places to learn the Brazilian Jiu-Jitsu in San Diego is at the Gracie La Mesa Academy. They teach time-tested techniques and methods to enhance the art of self-defense combat. Even some of America's martial artists have lauded the Gracie style of jiu jitsu for their simplicity, effectiveness and superiority in the instruction. One reason for their excellence is that they have the best instructors in conveying Brazilian Jiu-Jitsu Basics and concepts. They promote their techniques that even a lesser and weaker combatant can overcome a larger and stronger opponent just by using the proper kind of leverage.
Earning Brazilian Jui-Jitsu Belts
Brazilian Jiu-Jitsu designates the rank of the fighter using the Brazilian Jiu-Jitsu Belts from various associations. The main ruling body however is the IBJJF or the International Brazilian Jiu Jitsu Federation. A series of colored belts, each one is a sign of proficiency in a certain level but it takes at least two to three years of constant practice to proceed to the next rank. These are the colors: white, blue, purple, brown and black. It takes four stripes or degrees on white to get a brown belt and five stripes to earn a black belt which is usually given every three years. Upon reaching the 6th and 7th degrees, the Red and Black belts are awarded. At the 9th and 10th degrees, the fighter is considered a Grand Master and wears a Red Belt.
Brazilian Jui-Jitsu Tournaments
The best arena to test a fighter's skills in Brazilian Jiu-Jitsu is in a tournament. Hosted yearly by the International Brazilian Jiu-Jitsu Federation, the World Cup Championship (Mundials) which is known as Mundials is the most prestigious Brazilian Jiu-Jitsu Tournament. Participated by men and women who are black and brown-black belters, they battle to win the gold for the different weight divisions. The first tournament held outside Brazil was in 2007 which was held in Long Beach, California.
Starting in the early 1990's, the Brazilian Jiu-Jitsu became a name in the world of mixed martial arts and Brazil becoming the Mecca of the Brazilian Jiu-Jitsu.